SAN BERNARDINO DIVORCE ATTORNEY
Any major undertaking will require preparation and thorough planning to ensure a smooth transition. Few changes will be as life-altering as a divorce, so it is especially important to approach the situation delicately. Even if you are confident in your decision to separate from your spouse, it is likely to be a turbulent time clouded with questions. Heading into your divorce from a position of cool-headedness and control can lessen the complexity of the situation.
Unfortunately, the very nature of divorce makes it a difficult process prone to dragging up hurt feelings. Having a skilled attorney in your corner can help you cut through these emotions and find a favorable outcome for the end of your marriage. The Law Offices of H. William Edgar understands how complicated divorce can be and works diligently to support our clients throughout the entire divorce process. We have immense legal experience, allowing you to focus on yourself and your emotional healing during your divorce.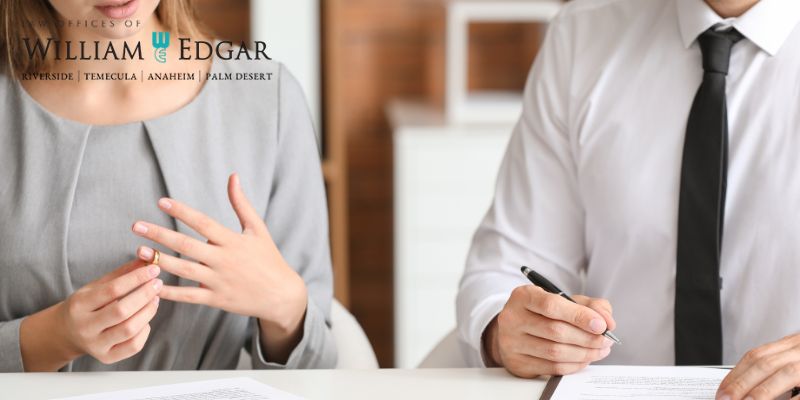 GETTING A DIVORCE IN CALIFORNIA
California has adopted a no-fault divorce system that allows either spouse to end a marriage without proving any allegations of fault. Citing irreconcilable differences as the basis for your divorce is enough reason to proceed with a divorce. Although fault is not required to get a divorce, it can affect issues like alimony or child custody.
There are, however, two requirements to get a divorce in California: meeting the residency requirement and waiting for the delay period to end.
Residency Requirement
To be granted a divorce, either you or your spouse must have been a resident of California for six months and a resident of your current county for three months. You can, however, file for legal separation as soon as one of you lives in California.
Delay Period
California has imposed a six-month waiting period for all divorces. Once the divorce paperwork has been filed with the court, and your spouse has been served with the documentation announcing your intent to divorce, you must wait six months before the divorce can be finalized. Even if you and your spouse can agree on all the conditions of your divorce before the six-month window closes, the judge will still not grant the divorce until this waiting period has passed. There is no way to bypass this part of the process.
ISSUES THAT MUST BE ADDRESSED DURING A DIVORCE
Divorce is multi-faceted, and many issues must be considered before it can be finalized. These issues include:
Division of Property
When you and your spouse separate in a divorce, you must separate every aspect of the life you made together during your marriage. The two types of property are separate and marital. Marital property will include everything acquired throughout the marriage, with very few exceptions. Marital property can include assets such as income, retirement plans, real estate, life insurance, business interests, retirement accounts, and debts. These will all be divided equally between the spouses. The only exemption from this division is separate property. Separate property is considered anything that was acquired by either party before the marriage, unless specific circumstances apply that make it marital property, such as real estate that became the marital home. Separate property can also include gifts from others that were given to one spouse instead of to both spouses.
Child Custody and Child Support
For a couple that shares children, child custody and support are often the most difficult issues when finalizing the divorce. Divorce is a rough time for children and parents alike, as it is hard to change from seeing each other every day to sharing parenting time with your spouse. These issues become even more complex when the children are young or there are concerns for their safety with one of the parents.Child custody encompasses two areas: physical custody and legal custody. Physical custody concerns where the children will spend the majority of their time. The parent who does not hold physical custody will have visitation or parenting time with the children. Child support will often be paid from the non-custodial parent to the custodial parent to offset the costs of their care. Legal custody concerns making the major decisions that will affect the children's lives, such as school, religious upbringing, medical treatment, and extracurricular activities.
Spousal Support
In circumstances where there is an income disparity between the spouses' incomes, the higher-earning spouse may be required to pay spousal maintenance to the lower-earning spouse. The court will use an established formula to determine if and how much spousal maintenance is owed. The statute will also recommend a payment duration based on factors like the length of the marriage. Spousal support may be temporary during the divorce period. It can also be permanent, lasting for years after the divorce is finalized.
HOW TO CHOOSE A DIVORCE ATTORNEY
A divorce attorney can be an invaluable resource during your divorce in San Bernardino, CA. While there are ways to get a divorce without consulting with a divorce lawyer, there are many benefits to employing a skilled attorney to help you throughout your divorce. These benefits, however, can generally only be found while working with a quality divorce lawyer. There is a long list of potential options, so it is helpful to narrow down your list.
Ask for Recommendations
Beginning with trusted family and friends who have gone through a divorce, ask around for any recommendations. They are likely to have valuable, first-person information about the attorneys they have worked with, helping you decide if their lawyers would be a good fit for your situation.
Create a Budget
Your search for an attorney should include a look at your finances and a determination of how much you will be able to spend on legal fees. Your budget should factor in how much you could lose to your spouse if you choose an inexperienced attorney who will not effectively fight for your rights in a divorce. Some attorneys will be more costly than others, and they may not fit into your budget, so it is important to have a candid conversation with yourself about your spending limits.
Search the Web
Once you have asked your friends and family for recommendations and created a budget, an online search will be your next step. When comparing attorneys, ensure that you create a short list of attorneys who focus on the type of divorce you are seeking. Although fun graphics and animations can be appealing, concentrate on the content of the attorney's web pages to gain insight into their strengths and weaknesses.
Create a List of Interview Questions
It is advised to schedule consultations with two to three attorneys when searching for representation in your divorce. These interviews will help highlight the differences between the attorneys on your shortlist, allowing you to choose the one you believe can help you succeed in your divorce. You can discover important details during these conversations, including their preferred communication type, their typical client, and how often they represent cases similar to yours.
San Bernardino Family Law FAQS
Q: What Are the Types of Divorce in California?
A: There are four main types of divorce:
Uncontested divorces occur when the spouses agree on every aspect of their divorce.
Contested divorces arise when the spouses are unable to reach an agreement and the court must step in.
Collaborative divorces occur when the parties believe that they may reach a settlement with the assistance of divorce attorneys.
Mediated divorces are helped along by a neutral third party that aids the couple in resolving any issues.
Q: What Is the Difference Between Divorce and Legal Separation?
A: When a divorce is finalized, each party is legally considered a single individual because the marriage has ended. They are no longer tied to their spouse and can remarry. Couples that are unsure if they are ready to end their marriage can choose a legal separation instead of a divorce, as the marriage will still be binding.
Q: Why Do I Need an Attorney If Alimony and Child Support Are Set With an Existing Formula?
A: The formulas for alimony and child support are determined by your spouse's income. It can, however, become difficult to determine exactly the value of your spouse's income. An experienced divorce attorney can help you find all potential sources of income, ensuring that the proper amount of spousal support or child support is determined.
Q: Do I Need an Attorney to Get a Divorce?
A: There is no legal requirement to have an attorney while you are getting a divorce, and there are multiple websites that can help walk you through the process. It is important to note that not required does not necessarily mean not recommended. Divorce attorneys are deeply familiar with your rights during a divorce and can help you leave your marriage with everything you are entitled to. Their knowledge can be invaluable as you navigate the complex legal process.
GETTING A SAN BERNARDINO DIVORCE
The Law Offices of H. William Edgar advocates for our clients, ensuring their rights are upheld through the divorce process. Our results-driven counsel can work ardently to ensure that you start the next chapter of your life with everything you are owed from your divorce. Schedule a consultation with our office today to see how we can help you finalize your divorce.