SOUTHERN CALIFORNIA CHILD CUSTODY ATTORNEYS
Helping Protect Your Child's Future & Best Interests
Child custody cases are among the most emotionally tense, uncertain legal situations any family can go through. Choosing the right ally for your dispute can affect your children's well-being for years to come, as well as your own.
The Southern California child custody attorneys at The Law Offices of H. William Edgar is dedicated to providing families with solutions that are beneficial for the family without drawing your children into a long, drawn-out legal battle.
Our Southern California child custody lawyers offer our clients the following benefits:
Results-Driven Representation
Honest Counsel with Integrity
Low-Risk & Low-Stress Solutions
Customized Approach
Since 2004, our award-winning law firm has been dedicated to results-oriented family law practice. That means we are not interested in long processes, long waits, or litigation that strings you along-what we want is an effective solution that resolves your custody case as soon as possible. Our clients turn to us when they want answers to their child custody dispute that won't lead to months of emotional trauma.
Contact a Southern California child custody attorney from one of our offices in Temecula, Riverside, Palm Desert, or Anaheim at (888) 251-9618 today.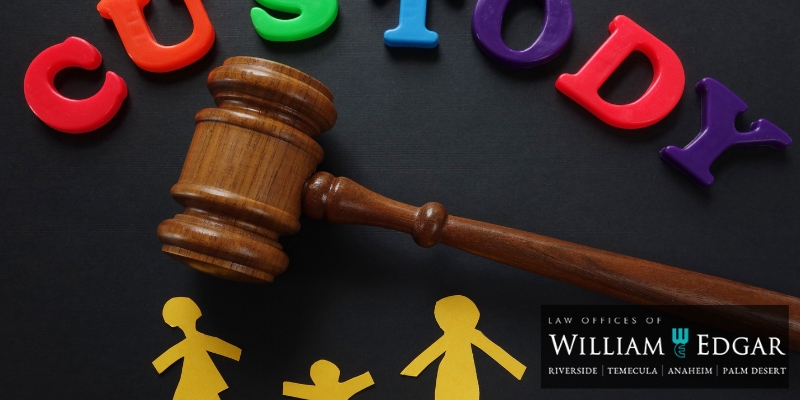 Types of Child Custody in Southern California
In California, the court recognizes that shared or "joint" custody is the most beneficial arrangement for a child. Barring any history of domestic violence, the court will likely ask you and your spouse to arrange shared custody in some form or another. However, joint custody does not mean 50/50 rights in every case.
Types of child custody arrangements in California include:
Sole physical (or residential) custody with visitation – Children live with one parent at their residence, with potential visitation rights for the other parent.
Joint physical custody – Children live with each parent for a designated amount of time.
Joint legal custody – The right for each parent to decide about their children's upbringing (i.e. medical treatment, where they live, etc.).
Sole legal custody – This is rare, because it puts the care of a child entirely into one spouse's hands — a situation that courts are reluctant to allow unless there are aggravating circumstances.
Child Custody Issues We Handle
Our firm has decades of collective legal experience, and we have handled hundreds of family law cases that involve the well-being of children. We understand how vital it is to preserve your child's mental and emotional health while fighting for their rights as well as your own custody rights. Our custody attorneys' extensive experience has equipped us to handle your child custody case with sensitivity, compassion, and skill.
Our team of Southern California child custody lawyers helps families with all issues involving custody:
Call (888) 251-9618 today to schedule a free, no-obligation consultation with our Southern California child custody lawyers.
More Information About Child Custody: