CORONA CHILD CUSTODY ATTORNEY
Child custody cases are emotionally difficult and painful for any family in Corona, CA. Even when both parents are working amicably together, the process can be stressful, and contentious custody cases only make it harder. The outcome of a child custody decision will impact your family's daily life and your child's upbringing. Therefore, it is essential to find a seasoned family law attorney. They can help you protect your child's well-being and look after your and your family's interests.
CORONA CHILD CUSTODY FAMILY LAW ATTORNEYS
At the Edgar & Dow, we can provide you and your family with the optimal solution to your family law issues. This can help avoid the stress and trauma that lengthy child custody cases can have on children. We want to represent your interests and advocate for a fair child custody arrangement that is safe for your children. At our firm, we focus on honest and clear legal counsel. Our attorneys hope to remove as much stress from the custody process as they can. We have years of experience aiming for solutions that are quick, effective, and tailored to a family's unique needs.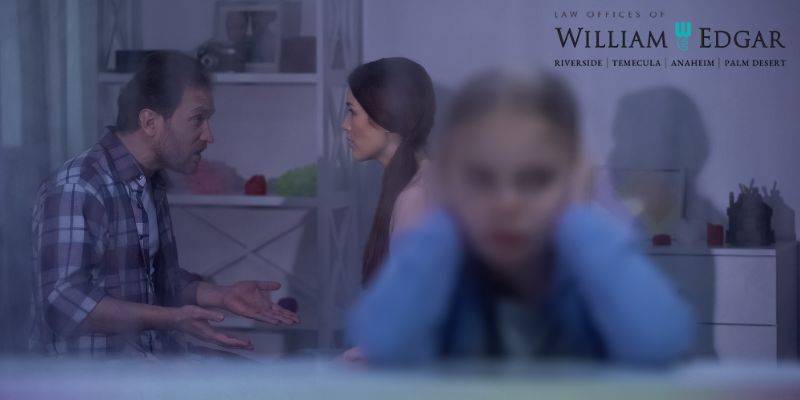 TYPES OF CHILD CUSTODY IN CALIFORNIA
The state court approaches custody with the assumption that a joint custody arrangement is most beneficial for the children. Unless this is unsafe or otherwise not in your child's interests, the court will ask you and the other parent to work out a split custody arrangement. This shared custody does not automatically mean a 50/50 split between parents. Finding a joint custody plan is the fastest way to determine child custody. However, if you believe that it is not in your child's interests, an attorney can argue your case in court.
CALIFORNIA ASSIGNS CUSTODY IN TWO WAYS: LEGAL CUSTODY AND PHYSICAL CUSTODY.
Legal custody refers to the parental right to make legal decisions about a child's upbringing. This includes their education and healthcare. The judge must determine that parents are capable of these parental responsibilities. They must also ascertain that they are not a threat to the child's health or safety with these parental rights. The two types of legal custody include:
Joint Legal Custody: Both parents share responsibility for important life decisions concerning their child. This means that one must consult the other about important changes or decisions in the child's life.
Sole Legal Custody: Sole legal custody is rare in a child custody case. It is often only assigned when there are aggravating circumstances, such as domestic violence, or other reasons a parent might be considered unfit. Sole legal custody assigns legal decisions for a child to one parent.
Physical custody is the other form of child custody in the state. It refers to parental rights to decide where a child lives.
Sole Physical Custody: This is also called sole residential custody with visitation rights. In this custody situation, a child will live with one parent at their primary residence. The other parent may receive visitation rights, depending on the circumstances.
Joint Physical Custody: This is granted if parents live close enough together and it will not disrupt a child's educational, recreational, or healthcare needs. The child will spend equal time with each parent.
Although joint physical custody is ideal, it is not always practical. The court prefers joint physical custody because it allows a child to maintain a strong relationship with both parents.
The type of legal and physical custody assigned to your family will depend on your needs and family situation. The court may determine that joint legal custody, but sole physical custody, is the right option if parents live too far apart.
THE BENEFITS OF WORKING WITH A CHILD CUSTODY ATTORNEY
Child custody cases are stressful, and the legal requirements can be overwhelming. Even if you and your co-parent are on the same page for custody decisions, there are still many deadlines, paperwork, and regulations that can complicate the situation. When you work with a family lawyer, they have plenty of experience with the requirements that are unfamiliar to you. They can help you approach the case with more certainty.
An attorney can help you and your co-parent through an alternative dispute resolution (ADR) process like mediation. Or, if cooperation is not possible in your custody case, an attorney can provide you with effective representation in court. Your attorney can walk you through the benefits and drawbacks of mediation and court. They can also help you determine the ideal option for your family.
COMMON CHILD CUSTODY ISSUES
Child custody cases often involve many other essential legal aspects. It is important to work with an attorney who has experience with the specific needs of your custody case. Common issues in child custody cases that our firm is experienced with include:
Visitation and parenting time
Residency
Child support
Modification of court orders
Relocation and moving away
Appeals of court orders
These are important aspects of a custody case. It is essential to know that, if your family's life changes significantly, child custody court orders can be modified to reflect those changes. An experienced Corona family attorney is a strong asset in navigating the family law system.
WHAT CAN IMPACT A PARENT'S RIGHT TO CUSTODY?
If a parent is considered unfit, they may not be able to gain physical or legal custody. In severe cases, they may be denied visitation rights. A parent may be considered unfit for the following issues:
Substance Misuse: If a parent is dependent on drugs or alcohol, they may be unable to gain custody of their child. To gain custody, they will likely have to prove that they are no longer misusing a substance and have gone through rehabilitation.
Mental Illness: A mental disorder that prevents a parent from controlling their actions or making decisions may be denied custody.
Criminal History: A parent with a criminal record or who is currently in prison could be deemed unfit for custody. This depends on the severity and nature of the crime and when it occurred.
Domestic Violence: If a parent is proven to have a history of physically or emotionally abusing their child, the other parent, or others, their parental custody rights will be denied.
MODIFICATION OF A CHILD CUSTODY ORDER
The California court recognizes that a family's life circumstances change. Custody and support may need to change to reflect that. There may be a change in income, a job loss, a disability that prevents a parent from taking care of a child like they could previously, or other issues.
You can file a petition for a modification of your custody orders. If the court decides the modification is needed and reasonable, then your court orders will be modified. Making the case that a modification is necessary can be easier with the help of an attorney.
Child Custody Lawyer FAQS
Q: How Much Does a Child Custody Case Cost in California?
A: Filing for custody in California has a fee of $435. You may be eligible to waive this fee if you cannot afford it. There are also legal fees and attorney fees. If you and your co-parent are on good terms, or can temporarily work together, you can determine child custody through mediation. This offers you more control over the outcome of custody. It is also less time-consuming and expensive. Otherwise, you will have to proceed with a trial, which is more expensive.
Q: Who Pays Attorney Fees in Child Custody Cases in California?
A: In most cases, each parent pays for their own attorney. However, there are circumstances where the judge can order the other parent to pay for some or all of your attorney fees. This depends on your income and your needs. It is also determined by whether the other parent has more access to money than you do and can afford the fees. They may be ordered to pay the entire fee or a partial amount, and you must pay the rest.
Q: How Long Does a Child Custody Case Take in California?
A: If your child custody case goes to trial, it can take 18 months. It can take longer if complex issues come up, like domestic violence or substance misuse, or if both parties are looking for sole custody. Mediation is much faster than a court case and saves a family a lot of money. The length of time mediation takes still depends on several factors. These include how many issues there are to work through and if you and the other parent can quickly come to an agreement. However, mediation is always faster.
Q: What Do Judges Look for in Child Custody Cases in California?
A: Above all else, California judges look out for the child's interests. The court prefers when parents can reach an agreement, as it likely means a more stable and less traumatic transition for their child. When determining custody, the court will look at:
The age of the child
The relationship between the child and each parent
The fitness of each parent
If the child has any siblings, the court will take into account where their siblings live.
THE EDGAR & DOW: YOUR CORONA CHILD CUSTODY ATTORNEYS
No matter how complex your child custody case is, our attorneys have the experience to help. We can guide you through legal requirements, assist you in mediation, or represent you in court. We prioritize your family's safety and well-being. Our firm wants to help resolve the case so that you have as little stress as possible. Contact the Edgar & Dow today for child custody representation.