CORONA FATHER'S RIGHTS ATTORNEY
Many fathers believe that their rights are passed over in child custody and support determinations in Corona, CA. The results of a child custody case can severely impact the amount of time a father can spend with their children. They can also determine how much say they have in life and legal decisions. In California, fathers and mothers have equal rights to custody, visitation rights, and child support. If you are a father who needs to protect your parental rights, you need a dedicated family law child custody attorney.
CORONA FATHER'S RIGHTS ATTORNEY
At the Edgar & Dow, we want to protect your rights as a father. Decisions for child custody and support are often stressful and complex. They can often lead to contentious relations between parents. The support of a father's rights and family law attorney can help bring clarity and support in the face of conflict. Our team has the experience necessary to defend your rights and resolve your legal case as efficiently as possible.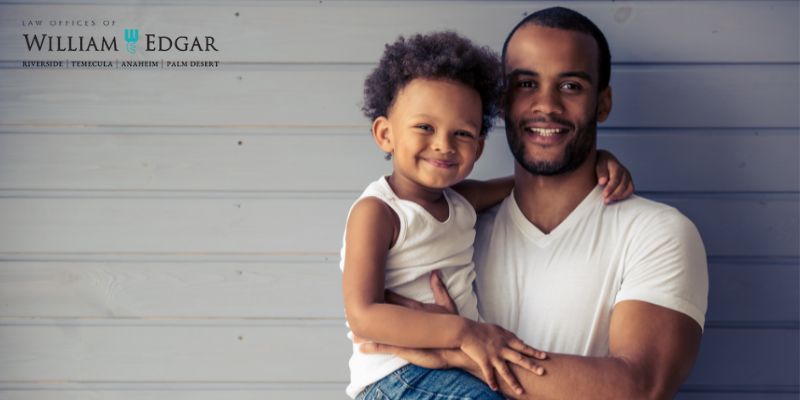 WHAT ARE FATHERS' RIGHTS IN CALIFORNIA?
Often, fathers feel that, despite the equal standing each parent has in divorce and custody cases, their rights are overlooked in favor of the mother's parental rights. Whether two parents are unmarried, separated, or divorced, the law grants both parents equal rights. Be sure to protect your father's rights.
Rights for fathers, mothers, and parents include:
Child custody and visitation
Child support responsibilities
Decisions about a child's religion, education, and healthcare
Custody or support modifications for life changes or if one parent does not follow the court order
Both parents deserve to be a part of their child's life and ensure they are safe and cared for.
THE BENEFITS OF A FATHER'S RIGHTS ATTORNEY
An attorney is equipped to help advocate for your rights and interests. They can determine the ideal course of action for your case. Whether you are involved in a child custody, visitation, or support case, an attorney who understands fathers' rights can work for the outcome you want. Whether your case is handled through negotiation, mediation, or litigation, an experienced attorney can make the process less stressful and more legally sound. An attorney can help you:
Establish paternity.
Apply for visitation or child custody.
Apply for court order modifications.
Negotiate with your co-parent.
Represent you in court.
A father's rights attorney can make the process much easier for you and your family.
WHAT ARE THE QUALITIES OF A FIT FATHER?
When the court is determining the ideal custody and support, they will base a father's rights and responsibilities on whether the father is considered fit. This includes:
Provides a safe and stable home and living environment for their children
Provides basic living necessities
Communicates with their co-parent
Provides their children with support, love, and guidance
Able to make reasonably good decisions for their children
Willing to make compromises with their co-parent
An attorney can prove that you are a fit father. They can also advocate for your interests in child custody and child support.
ESTABLISHING PATERNITY
In some situations, a father needs to prove paternity to establish parental rights and responsibilities. Under state law, if a child is born to two married parents, both parents are assumed to have legal parental rights.
However, if the parents are unmarried, paternity needs to be established. The easiest way to do this is through a voluntary declaration of parentage. Often signed by both unmarried parents once a child is born, this document establishes the child's legal parents.
In California, parental rights and responsibilities can also be proven by "parentage by estoppel." Even if a parent is not a child's biological father, they may be considered the legal father if the following applies:
They lived with the other parent and child.
They provided care and support as if the child were their own.
They showed commitment to the child.
Paternity can also be established through the court by either parent. A father proven to be a child's biological father has the right and responsibility for child support and custody. Challenging paternity must also be done through the court. The same rules for determining paternity apply to same-sex couples in California who registered a domestic partnership after January 2005.
FAQS
Q: What Are My Rights as a Father in California?
A: Both legal parents of a child have the same rights and responsibilities, regardless of gender. Father's rights include those for child custody, visitation, and the right to receive child support from the other parent. Fathers also have a responsibility to pay child support, depending on the family's unique situation.
Q: Can a Mother Stop a Father From Seeing a Child in California?
A: If there are no outstanding court orders, then both parents have equal rights over their children. This means it is illegal for a parent to conceal or refuse visitation or contact between their children and the other parent. If a parent fears for their safety or the safety of their children, they have the legal right to conceal them or refuse visitation rights. However, they must notify the DA and file the necessary paperwork.
Q: How Does a Father Get Visitation Rights in California?
A: California upholds equal parental rights for mothers, fathers, and parents regardless of gender. If a father has established paternity as the child's or children's legal parent, then they have the same parental rights as their co-parent. The courts prefer equal visitation and custody wherever possible. A father can also work with a father's rights attorney to ensure they receive the visitation outcome they want.
Q: What Rights Does an Unmarried Father Have in California?
A: Unmarried fathers have rights to their children if they have established paternity through the California courts. Paternity can be established by a voluntary declaration of parentage, pursued parentage, or a legal process of determining paternity. Unmarried fathers will then have the same rights to custody, visitation, guardianship, and child support as married parents do.
PROTECT YOUR FATHER'S RIGHTS
At the Edgar & Dow, our attorneys are dedicated to defending your parental rights. We advocate for father's rights and responsibilities toward their children. We can provide you with the legal advice and support you need to handle your custody or support case with confidence. Contact our firm today for more information about father's rights.