MURRIETA DIVORCE ATTORNEYS
Guiding Families Through Complex Legal Matters
No couple enters into a marriage with the expectation that it will end, but unfortunately many couples face divorce. When this happens, emotions can run high, and the process can be difficult for everyone involved. In addition to the stress of consciously separating from a loved one, navigating the complex legal system can be cumbersome and challenging. Because you are legally ending your marriage, there are many details that need to be accounted for. The agreements made surrounding these details will have long-lasting ramifications as you move forward after the final dissolution of the marriage.
Having an experienced and knowledgeable attorney on your side through the process will greatly impact the success of your divorce. At the Law Offices of H. William Edgar, our attorneys are ready to help you through this difficult process.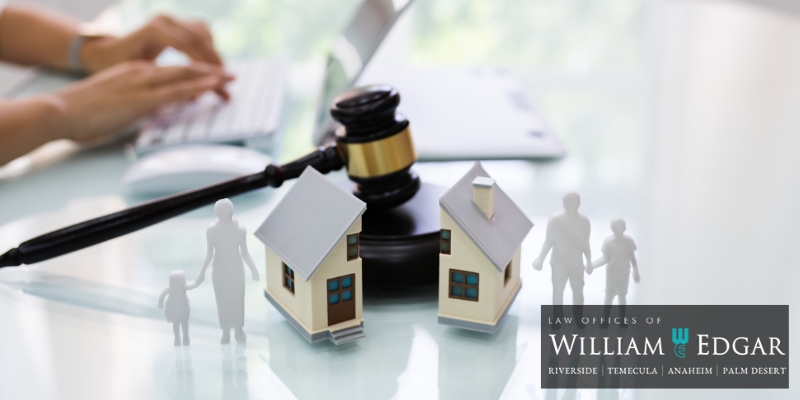 Dissolving a Marriage
There are three ways in which a couple can legally seek to dissolve a marriage. They are:
Divorce. This is the process by which a marriage becomes fully dissolved. Once a couple is divorced, they are no longer legally married and may seek to marry another person if they so choose.
Legal Separation. This formalizes a couple's separation, but the couple remains married, meaning that each spouse cannot remarry. This court-ordered separation seeks to resolve the same details as a divorce, including child custody, child support, spousal support, and the division of any assets. The separation outlines all the legal responsibilities of each spouse. These terms are often beneficial to couples who are unsure if they wish to file for divorce or wish to protect marital benefits such as retirement, social security, or medical benefits. If a couple wishes to move from separation to divorce, the legally binding agreements made for the separation will often be the foundation for the divorce.
Annulment. This process seeks to negate a couple's marriage from its inception. However, these are often difficult because the requirements to file for this type of dissolution are very stringent. To qualify for an annulment, a couple must file under religious or civil reasons. Religious annulments follow the rules of each partner's religious requirements. A couple will seek a civil annulment because of fraud, misunderstanding, concealment, or the inability to consummate the marriage.
Types of Divorce
Divorces in California can be filed in a number of ways. These include:
Contested divorce. In a contested divorce, the couple fails to reach an agreement on the details of the final dissolution and seeks the intervention of a court. This type of divorce is often more costly and can take months to years before any final decision is made. However, it forces the court to settle any disputes the couple may have, which means both parties are able to move forward. A contested divorce can also be filed if one spouse disagrees with the dissolution of the marriage.
Uncontested divorce. An uncontested divorce is when a couple agrees that the marriage should be dissolved and comes to an agreement on all issues of the divorce, including child custody, child support, and property division, among other aspects. Even if the terms seem amicable, it is important to retain the services of an attorney in case the situation quickly degenerates. There are many times when couples seeking an uncontested divorce find themselves in the middle of a contested divorce.
In addition to these types of filings, California also offers couples the opportunity to file for summary dissolution. These types of filings are less common and do not require a judge to decide the terms of the separation. A summary dissolution must meet certain minimum requirements:
The couple must have been married for less than five years, calculated from the time of marriage to the time of separation.
The couple must not have had any children by birth or adoption before or during the divorce process. Additionally, the couple must not be expecting a child together.
The couple may not own any property together. However, they may lease a residence together if there are no options to purchase and the lease terminates within one year of filing.
The couple does not owe more than $6,000 in debts accumulated since the date of marriage, excluding car loans.
Neither spouse individually owns property worth more than $38,000, excluding cars.
Both spouses agree not to seek any spousal support.
There exists a signed agreement between both parties that divides all shared property, including vehicles and debts.

Residency Requirements
All dissolutions of marriage in California must meet minimum residency requirements. These requirements include:
You or your spouse have been a resident of California for six months.
You or your spouse must have been a resident of the county where the divorce is filed for a minimum of three months.
If a couple does not meet the minimum requirements for residency, then the couple may not file for dissolution of marriage. However, the couple may file for a legal separation until the time the requirements are met. To move from a legal separation to a divorce, an "amended petition" must be filed.
The Grounds for Dissolving a Marriage
All petitions to dissolve a marriage must indicate the reason. There are two main identifiers for dissolving a marriage. The most common filing reason is "irreconcilable differences." Under this reasoning, the couple, or the filer, states that they cannot repair their relationship. The other reason that is commonly used is "incurable insanity." This uses evidence from medical professionals or psychiatric testing that one spouse is incurably insane at the time of filing.
The Major Aspects of Divorce
Divorces are full of small details that can become overwhelming. However, many of these smaller items are part of larger issues that a couple must settle. The biggest challenges facing couples in a divorce include:
Child custody. Not only do parents need to establish who will have custody of the child but also the percentage of time each parent will have, as well as visitation rights surrounding holidays. Legal decisions in custody will center on what is best for the child.
Child support. Unlike spousal support, child support is not defaulted to the parent that makes the most money. Child support can be awarded to the parent who has primary care of the child for the purpose of providing for their needs until they are 18 or another legally established time.
Spousal support. When there is a discrepancy in earned income between both spouses, one may be awarded support from the other in the form of a lump sum, monthly payments in perpetuity, or for a court-designated period of time.
Property division. Property is not just physical property that a couple owns but a collection of assets that they acquired throughout the course of the marriage. In some situations where a couple owns a home, but that home is going to be kept by one spouse, the difference in value could be offset by a higher award of other assets.
How California Family Law Divorce Lawyers Can Help
Hiring an attorney to help with your divorce proceedings can make a difference in the long-term impacts of your divorce settlement. When you work with a qualified divorce attorney, you are protecting your rights in the process and ensuring that you receive what you are entitled to. While it can be nerve-racking to hire an attorney because of the expense, the cost of legal help can be less than the resulting impacts of faulty agreements made without their assistance. The goal of any divorce attorney is to seek a fair outcome in your dissolution of marriage. Some key points to remember are:
Tell your attorney everything. Protection of information comes from attorney-client privilege. To help you receive a fair outcome, it is important that your attorney knows all the details of your divorce and your family. What you tell your attorney is told in confidence.
Initiating the divorce. Many people assume that the person who files first is the one who gains an advantage in the process that follows. However, an attorney will help you understand that this is a generalized myth. No matter if you are the filing or responding spouse, your attorney will be able to equally guide you through the process.
Length of the divorce. Because the timeline for a divorce can vary significantly depending on the details of your case, working with an attorney can help you keep track of the details and handle many of the small items that will arise along the way. In California, there is a six-month minimum from the time of filing to the earliest a couple can be granted a divorce.
Expectations. Because divorce can be a complicated process, you should have expectations that your divorce attorney will be organized, prepared, and attentive. While they may have other cases at the same time, that does not give them an excuse to neglect yours. When looking for an attorney to represent you, check for referrals and any information online that speaks to their experience and expertise.
When you are ready to hire an attorney for your divorce proceedings, there are several questions that you can ask to help determine if they are right for you.
Are you a certified specialist in California family law?
Which members of your team will also be working on my case, and may I meet them?
If there is an emergency, are you available?
Based on the details of my case, what timeline might I expect?
Are there any details of my case that should raise concern?
What is your hourly rate?
Are there any other charges I should anticipate?
What is the approximate total cost I should expect?
Are there ways to keep the costs down?
Family Law Overview FAQs
Q: What Can You Not Do During a Divorce?
A: There are many protective actions you should follow in any divorce proceeding. You also should not:
Go against court rulings.
Show any animosity around children.
Put your children in the middle of you and your spouse.
Try to hide any assets.
Significantly change your spending habits.
Q: How Do You Know If You Should Get a Divorce?
A: Different couples will divorce for different reasons. However, there are some common situations that may contribute to a divorce:
There is emotional or physical abuse.
The marriage causes you distress.
Intimacy has fallen off.
Mutual respect is lacking.
There are financial disparities that were not previously agreed upon.
The marriage fails to improve despite the efforts of both spouses.
Q: What Should You Do Before Telling Your Spouse You Want a Divorce?
A: If you have made the decision to divorce your spouse, there are several steps you can take to prepare yourself for the process:
Hire an attorney.
Decide whether you will file a contested or uncontested petition.
Collect your financial records.
Set up separate benefits, including a bank account, insurance, etc.
Prepare a plan for living arrangements that includes a proposal for any children.
If you have experienced any domestic violence, you may want to seek legal, medical, and therapeutic help.
Q: What Is Reasonable to Ask for in a Divorce?
A: In a divorce, it must be understood that both parties have invested in the relationship. Assets acquired during the marriage are not broken down by percentages based on each spouse's income. In the eyes of the law, both spouses have an equal claim to those assets. In any divorce, the legal process seeks to make judgments that are fair for both parties involved. While one spouse may feel more entitled to certain assets, being flexible can make the process easier.
Murietta Divorce Attorney
Divorces are emotionally draining, stressful, and complicated. Without the help of an experienced and knowledgeable attorney, many details can be missed, resulting in an unfair divorce result. At the Law Offices of H. William Edgar, our team works with you in order to help bring a reasonable resolution to your marital dissolution. If you are considering filing for divorce or have been served divorce papers, contact our offices for a consultation.