TEMECULA DIVORCE ATTORNEYS
Guiding Families Through Complex Legal Matters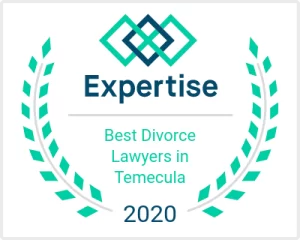 When it comes to legal disputes within families, fast resolutions are often the best ones. It means your family spends less money on legal fees, less time in court, and less time stressing over the case. More importantly, fast solutions mean families spend less time suffering from emotional trauma.
Though divorce is never easy, a qualified divorce lawyer or family law attorney can help you to work through major issues such as spousal support, child support, child custody, visitation, and more.
Our divorce lawyers in Temecula use every tool at our disposal in order to guide our clients through complex, painful cases. With decades of collective trial experience, we prepare every case for trial—while relentlessly searching for a way to settle your dispute outside of court. Either through litigation or through negotiation, we look for the best way to give your family law case the outcome it deserves!
Call 888-251-9618 or contact us online! Our award-winning Temecula divorce lawyers offer a results-oriented approach and are committed to fighting for the best outcomes in the shortest possible time.
Divorce Attorneys in Temecula, CA
At the Law Offices of H. William Edgar, our Temecula divorce lawyers are skilled in all areas of matrimonial law. Examples of family law cases include:
How to File for Divorce in Temecula
Filing for divorce in Temecula is a complex process that involves a lot of legalese, paperwork, court dates, and more. Get a Temecula divorce attorney on your side right away if you want to file for divorce. Once you have proper legal counsel and representation, the process of filing for divorce is as follows:
Pick up a divorce packet from the clerk at your local courthouse
Fill out the divorce papers
Pay the filing fee and file your Petition and Summons at your local courthouse
Serve copies of the divorce papers to your spouse
File your Proof of Summons
Wait for your spouse to file a response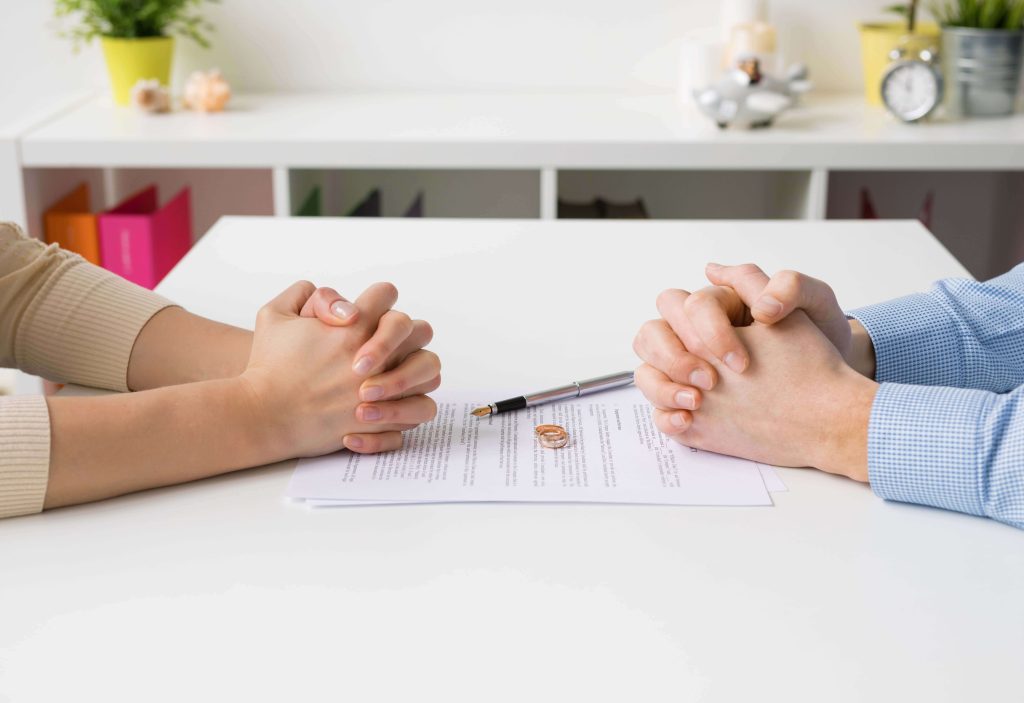 Alternatives to Divorce Court
Not all divorce cases have to go to court. If you and your spouse are in agreement about getting a divorce, then you may be able to avoid court by getting an uncontested divorce. Also, if one spouse files for divorce and serves the divorce summons to the other spouse, and he or she fails to respond to the summons, then the divorce could be finalized by "default."
Uncontested Divorce in Temecula
Uncontested divorce is a much simpler, faster, and more cost-effective form of divorce for couples that are in agreement about ending their marriage. Rather than waiting on busy court schedules and hoping that the judge will decide on favorable terms for your divorce, you and your spouse will come to an agreement on your own with the guidance of your own attorneys.
There are different ways of settling an uncontested divorce:
Mediation
Collaborative law
Summary dissolution
Unrepresented
Even in cases of uncontested divorce, it's in your best interests to consult a Temecula divorce attorney near you who can provide guidance and counsel every step of the way. This ensures that no mistakes are made and that you are able to finalize your divorce as quickly and painlessly as possible.
Divorce by Default
Another form of uncontested divorce is known as "divorce by default" or "default divorce." True default applies in cases where one spouse files for divorce and serves the other spouse, who then fails to respond to the summons within the required 30-day period, and there is no written divorce agreement.
Summary Dissolution in Temecula
Yet another form of dissolving a marriage is "summary dissolution." This is often called the simplest form of divorce or dissolution of a domestic partnership, as it only applies in cases where:
Both parties are in agreement about ending the marriage
The marriage has lasted less than five years
The couple has no children together (including unborn)
The couple owns no property together
The couple does not owe more than $6,000 in community obligations (minus auto loans)
The couple has less than $45,000 in community property (minus cars)
Neither party has separate property worth more than $45,000 (minus cars)
Both parties agree to no spousal support
There is a signed agreement regarding the division of property (including cars) and debts
If you and your spouse believe you qualify for a summary dissolution, then it's still in your best interests to consult a Temecula divorce attorney and make sure that you make no errors. Call (888) 251-9618 today to contact the Law Offices of H. William Edgar!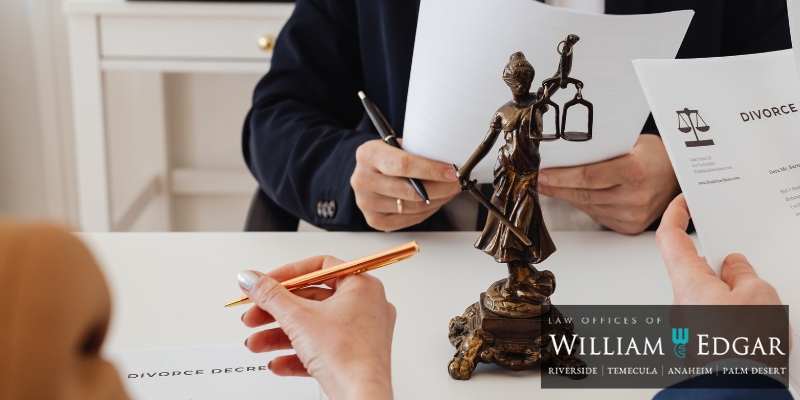 LEGAL COUNSEL FOR DIVORCE IN TEMECULA
Protect the Future of You and Your Family
Are you going through a divorce in Southern California? You may have questions about your options, rights, and the steps you should take to protect yourself and your loved ones throughout this process.
Our team at the Law Offices of H. William Edgar offers representation for divorcing couples in Temecula, Riverside, Palm Desert, Anaheim, and the surrounding area. We are knowledgeable and experienced, with a reputation for winning our cases. Our attorneys can represent you in a divorce, providing you with efficient and straightforward advocacy.
When You Hire a Divorce Lawyer from Our Firm, You Hire a Team.
Our Temecula, CA divorce lawyers are experienced. As a team, we've been serving clients in Temecula and local communities since 2004. All of our attorneys are experienced and knowledgeable; we combine this experience and knowledge when we handle a case by working together to pursue the best results for our clients.
How Can a Divorce Lawyer Help Me?
There are many aspects of a divorce where an attorney can help:
Child Custody – Nothing is more important than your child's well-being and best interests. We are here to help you protect your children with a custody arrangement that puts them first.
Dividing Your Property – Even in community property states like California, property division can be complex. The right lawyer on your side can help identify property and protect your hard-earned assets.
Child Support / Spousal Support – In some divorce orders, alimony and/or child support plays a role. Whether protecting yourself from exorbitant financial demands or pursuing the financial support you and your family need, our firm can represent your interests effectively.
Why Do I Need a Temecula Divorce Attorney?
Though you may believe that your divorce will be amicable, the process is almost always tumultuous. Even the most agreeable individuals can become vindictive when family law is involved. Your spouse may act in ways you have never seen or expected.
Hiring an attorney helps ensure that your rights and your family are protected. For example, if your spouse tries to take more than their fair share of assets, tries to commandeer custody, or attempts to deny spousal support requests, your attorney can argue your case in court so that you can get what you deserve. However, do not assume that your divorce will be amicable based on your partner's past behavior. In most cases, divorce brings out the worst in couples and can create significant issues without proper legal representation.
Family Law Attorney FAQs
Q: How Much Does a Divorce Cost in California With a Lawyer?
A: The cost of your divorce will depend upon your assets, the terms of your marriage and divorce, and the amount of time your attorney spends with your case. The average range of a California divorce is from $5,500 to $38,000. This large range shows how individualized divorces are and how much the cost varies from family to family. A divorce attorney may be able to give you an estimate after reviewing your situation.
Q: Who Pays Attorney Fees in Divorce?
A: Each party pays its own attorney fees during a divorce. This can come out of the settlement that you receive during your divorce if you so choose. However, if you are a spouse who is financially dependent upon your partner, you may be able to receive help to pay for your attorney fees. Always discuss your finances with an attorney before hiring them to be sure that you can pay for your representation.
Q: Do I Have to Pay for My Wife's Divorce Lawyer in California?
A: No. In most situations, California does not require one spouse to pay for the other spouse's attorney. The only scenario in which you may be financially responsible for your wife's attorney is if you are the sole breadwinner and your wife does not have any income or savings of her own. Otherwise, she is expected to pay for her own attorney.
Q: How Much Does Divorce Cost Near San Diego, CA?
A: The average cost for a divorce in California is between $5,000 and $38,000. This will depend upon the assets that you own, any prenuptial or postnuptial agreements you may have, and the cost of your attorneys. If you have significant assets, you may lose more money in the split with your spouse. On the other hand, the process is usually less expensive if you do not have significant assets.
Consult a Divorce Lawyer in Temecula, CA, Today
It is important to act quickly when looking for a family lawyer. You want to be protected throughout the entire divorce process. We can give you a free review to inform you about your options and to discuss your best interests at this time. Our attorneys are experienced and knowledgeable. We provide straightforward, honest counsel.
No one should get a divorce without the counsel and representation of a Temecula divorce attorney who has their best interests in mind. During such a difficult time in your life, you need an advocate who can lighten your burden and fight for your rights. Get in touch with the Law Offices of H. William Edgar today!
Schedule a free consultation with a divorce attorney in Temecula by calling 888-251-9618. We can listen, provide straightforward legal counsel, and develop a tailored solution for your problem.