CHINO HILLS CHILD CUSTODY ATTORNEY
Throughout Chino Hills, child custody matters tend to be the most emotional cases families go through. There's a level of uncertainty parents feel when determining who can see their children, especially without the help of legal representation. It is important to enlist the help of a Chino Hills child custody lawyer to support you during this time.
Child custody attorneys are skilled at assisting clients in finding a solution to their concerns with as little stress as possible. Our team at the Edgar & Dow has spent nearly 20 years practicing family law and resolving these cases as reliably as possible. We hope to inform you of your rights during this difficult scenario, as well as why having a lawyer is critical.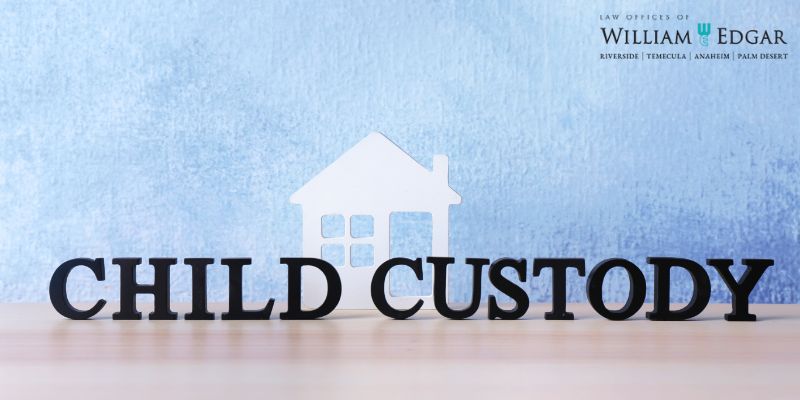 THE DIFFERENT TYPES OF CHILD CUSTODY IN CHINO HILLS
The legal system in Chino Hills recognizes four different types of custody agreements. Generally speaking, the court asks couples to arrange some form of shared custody, though there may be exceptions to this rule, such as a history of domestic violence.
The four types of child custody arrangements you may agree to include:
Sole physical custody with visitation. This means children will live with one parent at their residence, with the option to let them visit the other parent at certain times.
Joint physical custody. This type is similar to sole physical custody, though this type means the children will live with each parent for a specific amount of time.
Joint legal custody. This option allows both parents to make decisions about their children's upbringing, such as where they live, healthcare arrangements, and more.
Sole legal custody. Though rare, this situation typically occurs if there are circumstances that make it unsafe for a child to live with a parent. This puts the care of a child solely onto one parent.
Both parents must understand that joint custody does not always mean their rights are split 50/50. However, if you and your partner can agree on this arrangement, you may be able to move forward with this split. Navigating the legal system alone may not ensure you receive the most optimal custody arrangement for your situation. If you and your spouse cannot come up with an effective solution for your custody case, it's essential to speak with a family lawyer immediately.
THE CHILD'S INTERESTS ARE PRIORITIZED
No matter what your legal situation looks like, it's important to prioritize your children's interests over yours. Chino Hills courts won't automatically award custody to one parent, especially if one has a history of domestic violence or abuse. Instead, the court will be focused on finding the child's most efficient situation that protects their psychological, emotional, and physical well-being. Factors such as age, prior history, and relationship with each parent will be considered when finalizing a court order.
WHY DO I NEED A LAWYER?
While it's theoretically possible to defend yourself in court, the odds of achieving your ideal results in this case are slim. Hiring an experienced lawyer, however, improves your chances of keeping your child's interests on top. Your lawyer will gather as much background on your situation as possible so they can make an informed and stress-free decision.
If you believe your ex-spouse is unfit to take care of your child due to a history of crime and domestic violence, your lawyer will use this information to defend you and your child. The legal system in Chino Hills can be intimidating and confusing, but a lawyer will know exactly how to deal with it all.
FAQS for Child Custody Lawyers
Q: How Much Does a Child Custody Lawyer Cost in California?
A: Because each lawyer charges a different amount of money for their services, there is no set amount you must pay. Some lawyers may charge as low as $3,000 for their efforts, whereas others may charge nearly $20,000 if they are providing several additional services. Be sure to ask your potential lawyer what they charge so you can make the most effective decision.
Q: What Age Can a Child Decide Not to See a Parent in California?
A: In most cases, a child cannot refuse to see their parent under current visitation orders until they turn 18 years old. However, if the child can express their preferences at a sufficient age and provide an intelligent answer, they may be able to do this before they turn 18. Failure to abide by your orders can result in significant legal and financial consequences, so if your child refuses to see a parent, speak with your lawyer about it immediately.
Q: At What Age Can a Child Speak in Court in California?
A: There is no specific law stating how old a child can be to speak about their child custody arrangement, though most courts will allow children who are at least 14 to speak. However, courts will often recognize that teenagers may act poorly or will struggle to cope with a divorce, making these cases more challenging to work through. It's recommended your lawyer ask them questions so they can defend both of you in court.
Q: Who Has Custody of a Child if There Is No Court Order in California?
A: Both parents will have the same custody rights until a court order is finalized. This means you can make decisions about the child, including visitation schedules, healthcare decisions, and more. No parent has more power than the other, however. Navigating this scenario without a court order can be incredibly complicated, and it's easy for one parent to try to take power from the other parent.
WE HANDLE VARIOUS CHILD CUSTODY CASE ISSUES
Since 2004, the Edgar & Dow has represented many couples who made the difficult decision to divorce. With this came the complex process of determining child custody matters. You may feel unsure of what could happen to your children, yet you also want to protect their rights and prioritize their interests. For these reasons alone, it's crucial you hire a family law lawyer to represent you.
Our staff has plenty of experience assisting clients with visitation rights, fathers' rights, child support, appeals, modifications, and more. We value honesty, integrity, and results-driven strategies to ensure our clients are heard. You don't have to figure out your divorce and custody matters by yourself. To learn more about how we can help, contact us today.