CHINO HILLS CHILD SUPPORT ATTORNEY
After a stressful divorce in Chino Hills, CA, your goal should be to focus on your children's interests and needs. Sometimes, though, a divorce can be emotional and complex to work through. Parents may disagree on how their children should be taken care of, and attempting to go through the legal system without help can be a tall order. Fortunately, your Chino Hills child support attorney can help.
The Edgar & Dow has spent nearly two decades practicing family law, including helping clients with child support rights. While child support can be easily calculated, there can still be disputes over the process. Several factors must be accounted for when determining child support, and certain factors can be easily overlooked. We're prepared to use our knowledge of local law to ensure your child support matters are handled professionally and accurately.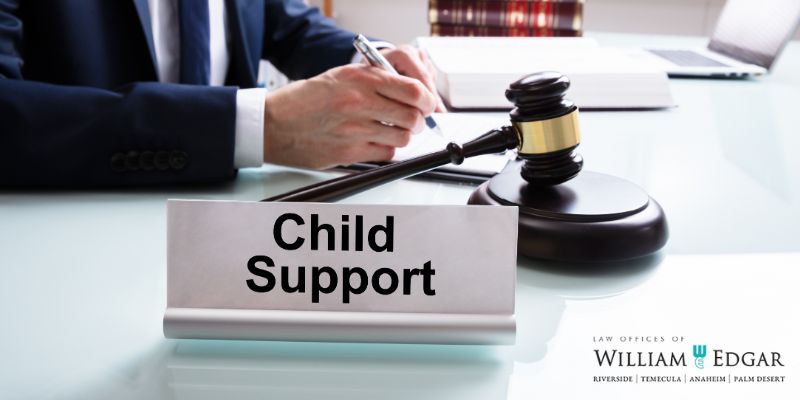 HOW IS CHILD SUPPORT CALCULATED?
Child support is primarily calculated from two factors, which are the income of each parent as well as how much time each parent spends with their child. The reason for this calculation is so the parent with more custody can provide an equal standard of living for their child as if the parents were still married.
There are other circumstances that can influence a child support agreement, such as:
A child's special needs
Any history of domestic violence
Standard of living before the divorce
Educational, health, and other costs
Tax deductions that each parent can claim
Required payroll deductions
Several other factors can affect the final agreement, and circumstances can also change over time. For example, the father may secure a new job after the agreement has already been made, which changes how support is calculated and paid. This calculator can also be done online, which many parents use to determine their own amount. However, parents should also consider hiring a lawyer to walk them through the process, as failing to follow your regulations can result in penalties.
WHAT HAPPENS IF A PARENT DOESN'T PAY CHILD SUPPORT?
When an agreement has been made for one parent to pay the other child support, violating this agreement can result in jail time, fines, or a combination of both. Missed payments occur frequently throughout Chino Hills, though it's imperative you find a solution to pay if you're struggling to make ends meet.
Chino Hills courts will uphold support orders at every moment, and if you fail to pay, they won't hesitate to penalize you. Your child's interests are the number one priority in the legal system, which is why you must take the appropriate measures to pay support at your specific times.
If you're struggling to pay child support but don't want to risk penalties, you may want to speak with a lawyer as soon as you can. There may be times when you can't pay child support because you've just been laid off, and you shouldn't have to suffer additional penalties on top of this.
An experienced lawyer can create a strong case for you so you can avoid punishments for something out of your control. Your lawyer can gather as much evidence as needed to prove your case to the courts and potentially have your agreement adjusted. Fortunately, both parents have the right to request a modification to the child support order if necessary.
FAQS
Q: What Is the New Child Support Law in California for 2023?
A: In 2023, updates to the child support laws were made to stress the importance of both parents contributing to their children's financial needs. The new law simplifies the process for making modifications to your child support orders. Because of this, parents who have changes in their circumstances can more easily adjust their payments. While the process has arguably become easier, it's still recommended to speak with a family lawyer about your changes.
Q: How Much Back Child Support Is a Felony in Chino Hills, CA?
A: Back child support occurs when a parent doesn't pay their required amount at the specified times. Too much of this can lead to a felony charge. If a parent owes more than $2,500 in back payments, they can be charged with a felony, according to California law. A felony results in several penalties, such as withheld wages, license and passport suspension, liens, and more. Those who are struggling to pay on time should seek legal assistance immediately.
Q: How Do I Sue for Child Support in California?
A: You can sue the other parent in a child support case by filling out an online application from the child support agency. Even if you have an order from a judge that requires a parent to pay child support, it doesn't automatically mean a child support case has been opened. You must fill out the required paperwork to officially sue someone for child support.
Q: What Is the Minimum Child Support in California?
A: There is no set minimum amount you must pay for child support. Everyone's circumstances are different, and your child may have different needs than other children. Your child support amount will be calculated after considering multiple factors such as income, child's age, special accommodations, and more. Should the amount of child support exceed an amount that works for you, speak with a lawyer to potentially have the agreement modified.
OUR TEAM CAN ADDRESS YOUR CONCERNS
Child support is crucial to keep your children fed, sheltered, educated, healthy, and more. Calculating the final amount takes time and careful analysis, and if a parent disagrees or can't pay their required amount, this can lead to stressful legal contentions. Both parents should understand their rights in this situation, as the legal system can be daunting to fully comprehend. Fortunately, our team is ready to help.
We hope you consider reaching out to us at the Edgar & Dow. We have nearly 20 years of experience helping parents resolve their family law disputes so they can move forward in a healthy and safe manner. Child support can be confusing, and if you fail to uphold your side of the agreement, you can suffer massive consequences. Learn more about child support laws in Chino Hills by contacting us today.