ANAHEIM CHILD CUSTODY ATTORNEYS
Custody Attorneys Known for Experience, Knowledge & Results
There are few issues as potentially painful as a custody dispute. Child custody issues touch on sensitive issues such as parenting style, upbringing, personal responsibility, and who is most beneficial for a child's mental and emotional well-being. More importantly, contested disputes can affect a child's well-being for years, as well as a parent's—that's why choosing the right child custody lawyer is such a vital decision.
Since 2004, the Anaheim child custody attorneys at the Law Offices of H. William Edgar has provided families with award-winning representation, focusing on solutions that benefit the family financially, legally, and emotionally. First and foremost, we are committed to sparing your children the emotional trauma of a long, drawn-out dispute. That's why we specialize in results-oriented family law, which looks for immediate, effective resolutions to your issues.
There are four primary benefits to working with our child custody lawyers in Anaheim:
Results-Oriented Counsel — We fight for the outcome your family needs.
Honesty & Integrity — Our counsel is always straightforward and clear.
Low-Risk & Low-Stress Solutions — We craft solutions quickly, sparing you stress and expense.
Tailored Representation — We adapt our strategy to our client's unique problems.
We offer free consultations from our Anaheim, CA office. Let us inform you of your options and how we can help. Call (888) 251-9618 to schedule a consultation!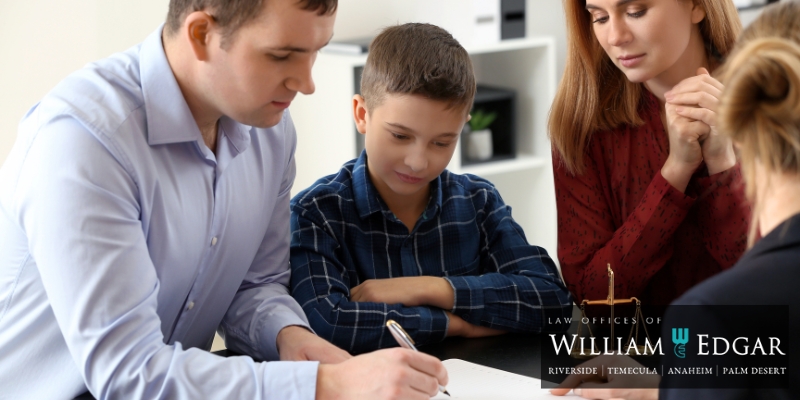 Types of Child Custody in Anaheim, CA
California courts often handle custody cases with the assumption that shared or joint custody is more beneficial for your children. If you do not believe that is the case, our attorneys are not afraid to argue in court on your behalf—however, our first response is to look for a way to negotiate and settle your dispute outside of court. After all, shared custody does not mean each parent receives equal rights.
Child custody agreements generally take 4 different forms:
Sole physical custody
Joint physical custody
Sole legal custody
Joint legal custody
Sole physical custody is also known as residential custody—it simply means that children live with one parent and receive visits from the other. Joint physical custody means children live with each parent for an equal amount of time, with each providing food, shelter, medical care, etc.
Sole legal custody is a far rarer situation. Legal custody is a parent's right to make decisions about their child's health, education, religious upbringing, and more. Courts prefer to award joint legal custody, which (on a practical level) helps ensure that both parents are involved in a child's life.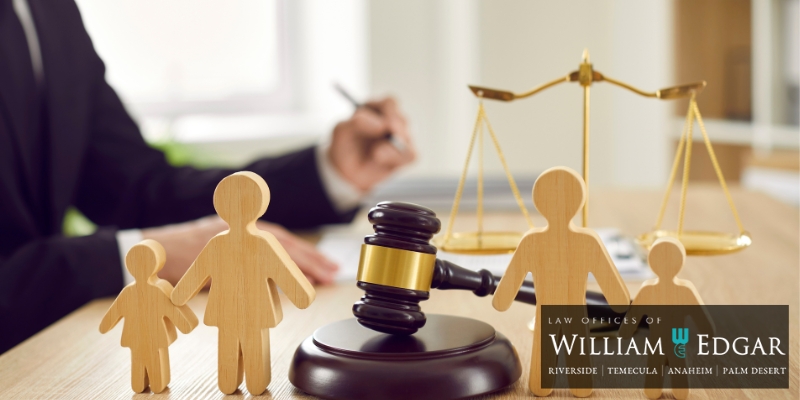 Contact Our Award-Winning Child Custody Attorneys in Anaheim, CA
With decades of collective experience handling hundreds of cases, the Law Offices of H. William Edgar knows how to navigate your complex child custody battle. We know how vital it is to protect your child's well-being in every respect, which is why our results-oriented approach is ideal for custody disputes. Our Anaheim child custody lawyers can handle your child's custody agreement with sensitivity, clarity, and compassion.
As a result of our work, our firm has received awards like:
Perfect Avvo rating of 10.0
"Top 100 Family Lawyer" Award for 2016
Lawyers.com "Client Distinction Award"
Inland Empire Magazine Top Lawyer Award
In addition to providing effective legal solutions, we provide financial ones as well. Our firm offers alternative payment plans and financing options. Our payment plans provide families with access to high-quality representation without overtaxing their accounts—making our firm one of the most cost-effective.
Determine your options and help secure your future: call (888) 251-9618 for a free consultation with our Anaheim child custody attorneys.