RIVERSIDE DOMESTIC VIOLENCE ATTORNEY
Throughout the United States, thousands of people experience various forms of domestic violence every year. When domestic violence occurs, the victim is likely to have many important legal questions about how they can keep themselves and their loved ones safe from their abuser. Unfortunately, it's also possible for someone to be falsely accused of domestic violence. This commonly occurs in divorce and custody cases where one party seeks an advantage and levies a false accusation to secure it.
Free case evaluations available! Contact us online or call (888) 251-9618 to learn more about how we can help you through this difficult time.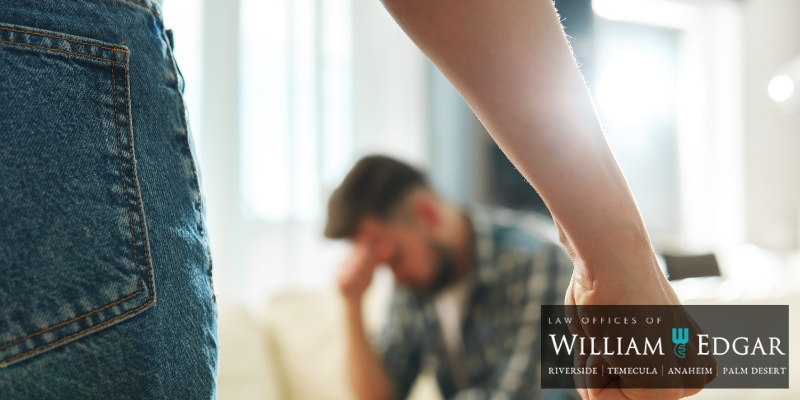 Representing Victims of Domestic Violence in Riverside, CA, Family Court
California enforces strict laws pertaining to domestic violence. Many of these statutes apply to criminal law, and anyone convicted of domestic violence in Riverside can face severe penalties. In addition, the state also enforces laws that pertain to family court proceedings. As a result, an individual convicted of domestic violence, especially against a child, faces the loss of their custody and visitation rights, fines, jail time, and a host of other penalties.
If you have experienced any kind of domestic violence in Riverside, if you face any family court case pertaining to domestic violence, or if you have been falsely accused of committing domestic violence, a Riverside domestic violence attorney is the best resource you can consult in these situations. Your legal team can provide invaluable guidance that helps you secure the best outcome possible for your impending proceedings. Many people are surprised to learn that their cases are much more complex than they initially expected. The stress of their experiences immediately followed by protracted legal proceedings can make an already difficult situation even worse when they do not have readily available legal representation.
The attorneys at the Law Offices of H. William Edgar provide compassionate legal representation to our clients in the Riverside, CA, area. We know how damaging and traumatic domestic violence can be for any family and the wide array of complex legal issues these incidents often generate. If you have experienced domestic violence or have been wrongfully accused of domestic abuse, we can help you navigate your case proceedings with confidence and peace of mind.
Benefits of Hiring a Riverside Domestic Violence Attorney
The right attorney can have a tremendous impact on any family court case outcome. When it comes to domestic violence, it's best to have legal representation from an attorney experienced with both complex family law cases that may involve criminal court proceedings. Technically, there are no legal requirements to hire legal counsel for your impending domestic violence case. However, you are far more likely to navigate your proceedings efficiently and reach a suitable result with an attorney's assistance.
An experienced Riverside domestic violence attorney can be a tremendous asset after sustaining domestic abuse. While the police may offer some initial assistance and help the victim secure a temporary restraining order, the victim needs more comprehensive legal counsel if they are to navigate their case successfully. In addition, an experienced Riverside domestic violence attorney is the best asset for preparing for your impending family court proceedings as swiftly as possible.
The domestic violence you experienced likely led to a child custody dispute or a larger divorce case. The offender is also likely to be subject to a restraining order following the resolution of your case. If you have been falsely accused of domestic violence, facing a restraining order and imbalanced treatment in family court proceedings would be entirely unfair. However, a domestic abuse case can come down to one party's word against the other's with no clear solution. One of the most important benefits of hiring an experienced Riverside domestic violence attorney to handle your case is that you are prepared to meet very challenging proceedings with greater confidence. Ultimately, you are most likely to reach agreeable results for your case if you have legal counsel you can trust to represent you.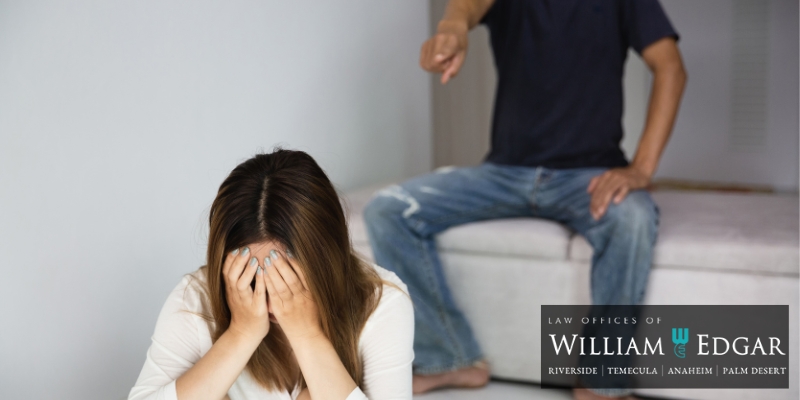 Commonly Reported Types of Domestic Violence
Domestic violence can occur in many ways, and California upholds a relatively broad definition. "Domestic violence" is any type of abuse or violence that occurs between members of the same family or household. However, the parties involved do not necessarily need to be related. Conversely, they do not necessarily need to live together. Domestic violence can potentially occur between:
Currently or formerly married spouses.
Current or former romantic partners, roommates, and housemates.
Parents or stepparents and children or stepchildren.
Siblings and extended relatives.
Domestic violence can involve physical abuse, such as hitting, slapping, or strangulation. Sexual abuse also qualifies as domestic violence when committed against a family member or member of the same household. Domestic violence can also involve verbal, emotional, and psychological abuse. Isolation, terrorizing threats, and ongoing cruelty can all eventually lead to domestic violence charges in California. Anyone who commits domestic violence is likely to face severe penalties, and those who harm children face especially severe penalties.
Whenever domestic violence happens, the victim should report it to the police. Unfortunately, some people experience prolonged periods of ongoing domestic abuse before they can seek any kind of help. When California police respond to a call for domestic violence, they have a professional obligation to protect the alleged victim from further harm. At this point, the police will remove the alleged offender, possibly placing them under arrest. If you find yourself in this situation after being wrongfully accused, you must do your best to remain silent until you have a defense attorney representing you.
If you are the victim of domestic violence and call for help, the police can potentially help you secure a temporary restraining order that will prevent your abuser from coming close to you or contacting you. If they violate this order, they will go to jail and face additional penalties. The temporary restraining order will expire upon the first hearing of the case. The judge who oversees this hearing will determine whether the order can be canceled or if a permanent restraining order is necessary.
Potential Consequences of Domestic Violence in Riverside, CA
Domestic violence cases are often multifaceted. The defendant faces severe repercussions in both the family court and the criminal court depending on the nature and severity of the offense and their relationship to the victim. On the other side of the case, the victim may need to prepare for a very difficult custody dispute, a divorce, and a wide range of related legal proceedings.
If your domestic violence case pertains to your immediate family, such as abuse you endured from your spouse, it is very likely that after you address the domestic violence-related legal issues, you will need to prepare a divorce petition. The attorneys at the Law Offices of H. William Edgar have years of experience handling complex divorce and custody cases. In addition, we know how domestic abuse can influence custody determinations and the concerns parents typically have regarding their children's safety.
Whether your domestic violence case pertains to a member of your household or a former close relative who no longer lives with you, your case is likely to end with some form of a restraining order in place. This court order will dictate the defendant's obligations to the court, including strict rules against them contacting you, coming into physical contact with you, or coming near your place of business, your child's school, or your home.
Violation of any restraining order carries severe consequences. Once you have obtained your restraining order against the defendant, you should immediately notify your attorney or the police of any violation. In addition, the defendant can face a host of penalties in both criminal and family court in response to any direct and willful restraining order violation.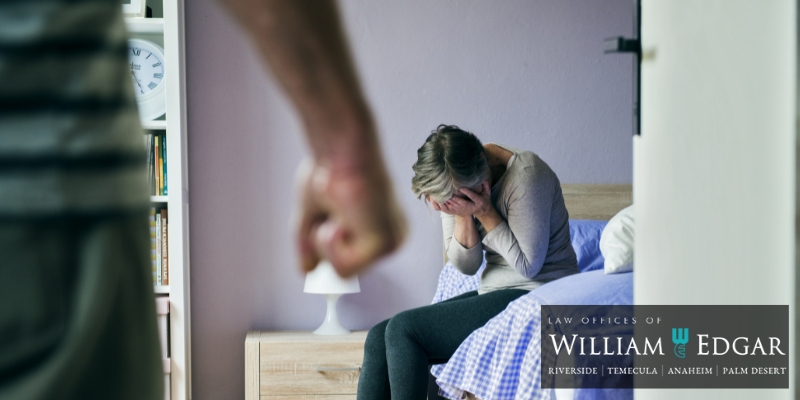 What to Expect From Your Riverside Domestic Violence Lawyer
If you need legal counsel after experiencing any kind of domestic violence in Riverside, CA, the Law Offices of H. William Edgar can provide the comprehensive legal counsel you need to understand the multifaceted nature of the proceedings ahead of you. Most domestic violence cases branch into related legal matters that will demand your attention. Working with an experienced Riverside domestic violence attorney significantly improves your chances of success with this incredibly demanding effort.
Our team can work with the police officers who responded to your call for help and coordinate a temporary restraining order as swiftly as possible. Once we have helped you address the immediate concerns of your case, we'll help you understand how your case is likely to unfold. For example, depending on your relationship with the defendant and the nature of your experience, you could face further family court proceedings. In addition, you may need to testify against the defendant in their criminal court proceedings.
If you have been falsely accused of domestic violence while in the midst of a divorce or contested child custody dispute, we can help you determine the best way of proving the truth behind the situation in question and holding your accuser appropriately accountable. Ultimately, no matter what side of a domestic violence case you find yourself on, the right legal representation is likely to offer your best chance of navigating your case as successfully as possible.
Riverside Domestic Violence Law FAQs
How Much Does It Cost to Hire a Family Law Attorney in California?
Most of the family law attorneys practicing in California bill their services by the hour. An attorney will set an hourly rate for a client and bill them in 10- or 15-minute increments as they work on their case. Some family law attorneys offer flat fee pricing for very specific legal services in the Riverside family court. Make sure you understand how an attorney will bill you before you sign an agreement for their representation.
What Are Possible Defenses to Domestic Violence Charges in Riverside?
If you are accused of domestic violence you did not commit, overcoming your charges may require proving that you were falsely accused entirely or that you acted in self-defense. While your situation may seem hopeless, an experienced attorney can guide you through your available defenses and potentially uncover evidence to support your case that you may have overlooked on your own.
How Long Will My Domestic Violence Case Take?
It's understandable to want to resolve your domestic violence case as quickly as possible. When you choose the Law Offices of H. William Edgar to handle your case, we can help you meet all procedural deadlines. This prevents any unnecessary delays from hindering your case's progress. However, depending on the unique details of your case, it may take several weeks to several months to completely resolve the legal issues ahead of you.
Can Domestic Violence Lead to Jail Time in California?
California state law imposes strict penalties for domestic violence. The penalties for domestic violence typically reflect those of similar offenses outside the realm of domestic violence but are increased to reflect the severity of these offenses. For example, the penalty for domestic physical assault is likely to reflect the penalty for standard assault, but the defendant faces a harsher sentence since the offense qualifies as domestic violence.
Is It Worth Hiring a Riverside Domestic Violence Attorney?
It's natural to be concerned about the potential cost of hiring an attorney. However, it's vital to understand the value that reliable legal counsel brings to your position in a difficult domestic violence case. The right attorney can streamline your proceedings significantly, helping you keep yourself and your loved ones safe with a swiftly secured restraining order. When you choose the Law Offices of H. William Edgar to represent you in a domestic violence case, we will also provide ongoing legal support through your subsequent family court proceedings.
Domestic violence, unfortunately, continues to be a widespread problem throughout the United States. Victims in Riverside and throughout California need legal counsel they can trust to guide them through their family court proceedings and provide reassurance during these challenging times. Unfortunately, those falsely accused of domestic violence are likely to feel as though the entire system is pitted against them, and no one is willing to help.
The attorneys at the Law Offices of H. William Edgar are here to provide the compassionate and responsive legal representation you need for your impending domestic violence case. To meet with a Riverside domestic violence attorney and discuss your case, contact us today to schedule your free consultation with our team.
Begin with a free consultation. Call us at (888) 251-9618!