CHILD CUSTODY ATTORNEYS IN TEMECULA, CA
Choose Our Firm for Knowledge & Experience
The future of your child can be affected in a divorce or other situation requiring a child custody decision. Determining child custody is one of the most difficult and emotional parts of the divorce process. If you are fighting for custody of your child, finding an attorney who can properly represent you is important. Without legal help, the court may give your child's other parent full custody, denying you the right to interact with your children.
Our team of Temecula child custody attorneys at the Law Offices of H. William Edgar understands the laws and other factors that affect a custody case. We have been serving our community since 2004 and continue to provide efficient representation aimed at achieving your desired results and your child's best interests. You can rely on us for exemplary advocacy and dedicated, experienced counsel delivered in a straightforward manner.
Our Temecula child custody lawyers tell the truth and give you the representation necessary to achieve a positive end result. Call (888) 251-9618 now to reach our Temecula office!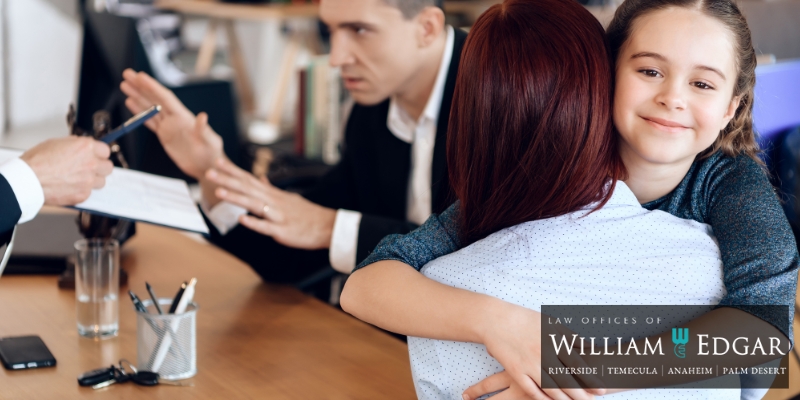 California Child Custody Laws
The court prioritizes a child's best interests. This means that the court will try to determine and establish the situation that most benefits the child. The court will also try to ensure as much consistency and as little disruption as possible for the child. This means that, when possible, the court will establish a custody arrangement that mirrors the child's pre-divorce schedule and routine as closely as possible.
Factors considered when determining the best interest of the child include:
The age of the child
The health of the child
Which parent has served as the "primary parent"
Time the child spends with each parent
The living environments of both parents
The employment and financial status of both parents
The location of the child's school
Any history of drug use, alcoholism, domestic violence, or other concerning factors in a parent's life
With the help of an attorney, you can show the court that you are a safe and healthy guardian for your child. In addition, your attorney will help you provide your perspective and combat any false or misguided information.
Why a Child Custody Attorney Is Essential
It may be tempting to argue your own child custody case in court, but this is almost never a good idea. In most cases, hiring an attorney shows the court that you are serious about gaining custody. We can also help you portray your story in the best light and show the judge why your child benefits from having a relationship with you. Finally, without an attorney, you may be unable to combat misinformation that your child's other parent's attorney uses against you.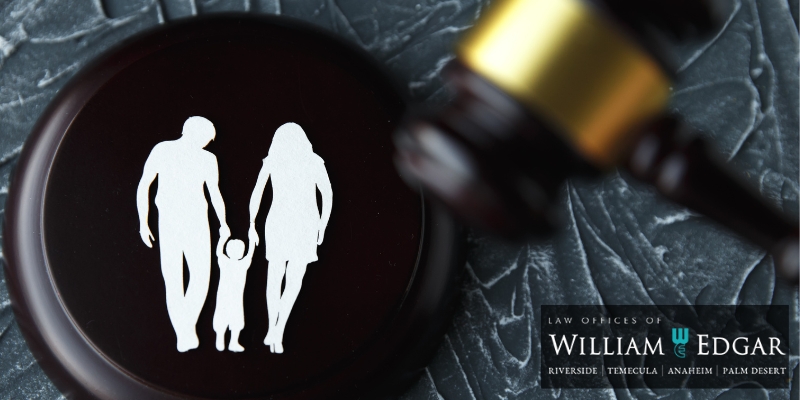 Child Custody Lawyer FAQs
Q: How Much Does a Child Custody Lawyer Cost in California?
A: Temecula child custody attorneys often charge a flat rate ranging from $3,000 to $20,000. This is a large range, so it is important to discuss attorney fees before you hire a lawyer to represent you. Some child custody attorneys charge hourly, but this is less common in this sector than it is in other areas of the legal system. A frank discussion with potential attorneys about their fees is crucial to winning your case.
Q: Who Pays Attorney Fees in Child Custody Cases in California?
A: As with most family law cases, individuals usually pay for their own child custody case attorneys. Seeking custody of your children is likely important to you, but you are not required to fight for it. Therefore, you must pay for your own representation if you choose to seek custody. It is important to be aware of this when interviewing potential attorneys. In rare situations, a judge may order your child's other parent to pay your attorney fees.
Q: Can You Get a Court-Appointed Attorney for Child Custody in California?
A: No. California divorce courts do not appoint attorneys for child custody, visitation, child support, or other family law cases. Therefore, if you fight for custody of your child, your attorney's fees are typically your responsibility. In rare exceptions, the judge may require your child's other parent to pay for your lawyer. However, this is atypical and should not be expected.
Q: How Much Custody Can a Father Get in California?
A: Fathers have just as much right to see their children as mothers do. Depending on a father's situation, they may receive visitation rights, partial custody, or full custody. The court will consider the family dynamic, income, living situations, and parent-child relationships when determining custody. Gender is not a consideration when determining custody, and both parents have the same rights. The court simply assesses what is best for the child and assigns custody based on their safety.
Our Temecula Child Custody Attorneys Can Help. Starting with a Free Review.
Let our experienced custody lawyers assist you as you work to protect your child's rights and interests at this time. We'll be happy to answer your questions and to provide you with straightforward, helpful counsel.
Call us at (888) 251-9618 to schedule your free case review with a child custody attorney in Temecula. Contact the Law Offices of H. William Edgar!